Caring for left-behind children is as good as water. On June 13, the entrepreneurs of the General Chamber of Commerce of Ningyuan County Federation of Commerce and Industry came to the experimental elementary school to carry out a warm-yang project for caring for left-behind children and provided loving support to 70 left-behind children.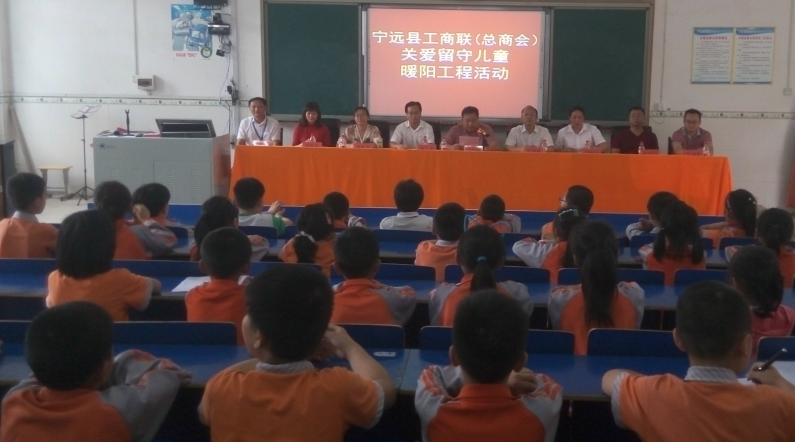 The event was chaired by Director Cai Huihua of the General Affairs Office. At the beginning of the event, the principal of the school Cai Wenbin gave a welcome speech, expressing his gratitude and respect to the caring entrepreneurs, and hoped that the students who are funded will work harder and live up to the caring entrepreneurs' concerns.

Then, Ou Qiaogui, the chairman of the county's Federation of Industry and Commerce, delivered a warm speech, stating that donating to the school is a kind act of devotion, warmth, and cohesion among the people. It is also a good thing to promote traditional virtues and practice core socialist values. He also suggested that helping a left-behind child is helping a family, supporting education, and caring for the future of the motherland.

Then, the caring entrepreneurs distributed caring subsidies, stationery boxes and school bags to 70 left-behind children. A total of 21,600 yuan in caring subsidies were provided, with 70 stationery boxes and school bags each. The funded students thanked the entrepreneurs for their care and expressed that they must study hard and repay the care of the schools and entrepreneurs with excellent results.

The loving support of the Nonyang Project not only helped 70 left-behind children in their lives, but also strengthened their confidence in learning and life, and promoted the positive energy of caring for left-behind children throughout the society, expressing the party and government's The care and love of left-behind children.
(Contributed by Wang Yongming and Zheng Yunlong)